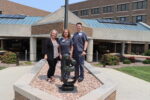 Henry Community Health unveiled a new sculpture at the main entrance to the hospital on July 28. "The Healer's Touch" sculpture honors HCH nurses for the care and compassion they provided patients and families throughout the COVID-19 pandemic.
Earlier this year, HCH nurses were recipients of the International DAISY Award®. The award recognizes extraordinary nurses for the skill, compassion and super-human work they do for their patients and families every day.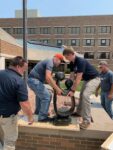 "Throughout this pandemic, our nurses continually put the needs of others first and demonstrated the desire to serve and care for others. It is very fitting that we honor our nurses in this way," said Shelley Wilson, chief nursing officer. "This statue will be a constant reminder of their selflessness and will serve as a tribute to their dedication and perseverance over the past 18 months."
The 150-pound sculpture was hand carved by artists of the Shona Tribe in Zimbabwe. The statue is a symbol of the International DAISY Award®.
Nominate an extraordinary HCH nurse by visiting https://www.hchcares.org/careers/daisy-award-for-nurses/